Spring Time Toxins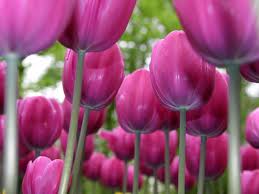 Spring is right around the corner! It is exciting to see plant bulbs poking up through the ground with their promise of color and beauty. Even though these flowers are beautiful, they can pose a threat to our pets.
Here is a list of the most common spring plants and their toxicities so you know how to pet-proof your garden.
Tulips and Hyacinth
The toxic principle of these plants is very concentrated in the bulbs, so make sure your pet isn't digging in the garden. If the bulb is chewed or ingested it can result in irritation to the mouth and esophagus. Typical signs include profuse drooling, vomiting and diarrhea. If ingested, rinse the mouth and seek veterinary care if symptoms linger.
Daffodils
These flowers contain a strong alkaloid that triggers vomiting, diarrhea, abdominal pain and possible cardiac arrhythmia. If ingested, seek veterinary care.
Lilies
There are both dangerous and benign lilies. Peace, Peruvian, and Calla lilies will cause minor symptoms such as irritation to the mouth, tongue, pharynx and esophagus causing minor drooling. More dangerous and potentially fatal lilies are true lilies such as Tiger, Day, Asiatic, Easter and Japanese Show. These lilies are highly toxic to cats. Even small ingestion of the pollen or a couple of petals can result in severe kidney failure. If your cat is seen consuming any part of a lily, bring your cat and the plant to a veterinarian right away.
Crocus
There are two crocus plants. One that blooms in the spring and one that blooms in the fall. Ingestion of the spring crocus can cause gastrointestinal upset including vomiting and diarrhea. The fall crocus is also known as Meadow Saffron and is highly toxic and can cause severe vomiting, gastrointestinal bleeding, liver and kidney damage and respiratory failure. If you are not sure what plant it is, bring the plant and your pet to the vet immediately.
Lily of the Valley
Ingestion of this plant will cause symptoms similar to digitalis (foxglove) ingestion. These symptoms include vomiting, diarrhea, drop in heart rate, severe cardiac arrhythmias and possibly seizures. Pets with known exposure to this plant should be examined by a vet right away.
Fertilizers
When we are out working in our gardens we should be aware of fertilizers. While most are not very toxic, some can be fatal if treatment is not given. Here are some ingredients to watch out for.
Blood meal – can result in pancreatitis
Bone meal – a problem when consumed in large amounts
Rose and plant fertilizers containing disulfoton or other types of organophosphates (OP). As little as 1% of disulfoton can kill a 55 lb. dog.
Pesticides/Insecticides – basic irritant unless it contains organophosphates.
Iron – can cause iron toxicity.